Nothing seems to draw the ire of the cannabis community more quickly than the mention of celebrity weed brands.
Viewed by some as a marketing gimmick, they decry the slick packaging and mass production as harbingers of the destruction of the "mom and pop" cannabis-growing era. The trouble with this mentality is it belies the fact that these strains are, at their very worst, serviceable. It's the kind of hollow criticism that Guy Fieri gets from people who couldn't brunoise a carrot without losing a thumb.
Sure, at age 83, Willie Nelson isn't personally growing each of these strains. Heck, we're not sure if the Red Headed Stranger knows the difference between indica and sativa. But I have to admit, his team made strong choices of known genetics that are sure to please the tourists who will purchase Willie's Reserve at its harrowing price (for $15/gram, $45/eighth, $85/quarter, $340/ounce). For $90 and change, I became the first person to purchase the line from Lucy Sky on Broadway. The Willie's Reserve line of flower and CO2-extracted concentrates is also available in Colorado at Mindful, Simply Pure and Terrapin Care Station locations.
Here are my thoughts on the five grams I walked away with:
Sour Diesel (sativa)
Grown by: Southern Charm Organics
The clear winner of the group, I could smell the sweet gas fumes pouring out of the package as if I too were on the road again. Trichome laden, the light-green and orange nugs were impressively dense and free of any "nanners" (banana-like stamens that release dreaded pollen) that can plague Sour Diesel, although the trim left much to be desired. It looks like the plant knew a treasonous secret and interrogators held its face close to a belt sander to get it to talk — only they stopped far too late. With the volume they expect to be doing with the brand's release, I can understand not hand trimming. If the next round could come out looking less like an black-ops interrogation victim, that would be great.
Giving it a spin before a cannabis cooking class, this felt like a smart choice for an event that was A) three hours long and B) started at 10 a.m. Initially heady, it helped set the pace for our walk there and kept me engaged enough to ask a question about ibuprofen and being too high on edibles while the rest of my table looked like they were experiencing various stages of death.
Sitting wasn't in the cards with this active a strain, so I made various trips to different stations in the back of the room as the cooking demos took place. Part of this was self-preservation, as the Sour Diesel had amped up my hunger and the medicated dishes being concocted weren't for sampling, although they smelled divine. Still feeling a decent buzz during our second break, I have to applaud the long-lasting nature of the strain, which was particularly impressive for a sativa.
---
The Hulk (sativa)
Grown by: The Flower Collective
Assuming they're referring to a cut of Bruce Banner and not a new Hulk Hogan-related strain, this was one of the more perplexing plants. Great Banner has some delicious strawberry notes behind it, where this jar is dominated by pine cleaner and rubber, smells I don't often associate with a straight sativa. Given the kush-like structure and darker nugs, I was initially hard-pressed to agree with the designation. And again, it was trimmed within an inch of its life.
This is the perfect strain if you're looking to feel uncomfortable around an Uber driver or give an awkward handshake. Smoking before a friend's birthday party, I found myself with an uptick of energy initially, attempting to chat up "William," who only speaks in lifehacks for Uber drivers. When we picked up our other line rider, the car went silent and the high became much heavier, moving into my shoulders and back. Fortunately, I sat shotgun and didn't have to make much eye contact.
Arriving at the party, there were a lot of people I was supposed to know but my high became muddy, which turned them all into Generic Personman. Standing felt terrible and I couldn't help making either too much eye contact or not enough, something I was painfully cognizant of in the early going. It started to fade after an hour, however, with my body feeling lighter as I moved around the rooftop. Still, for a billed sativa I was expecting a lot more in terms of energy and mood.
---
OG Bubba Kush (indica)
Grown by: Bloom County
The world is filled with beautiful Bubba Kush that comes in a variety of shapes, sizes and colors. I have never seen Bubba Kush like that of Bloom County. It's like I ordered a pizza, received a calzone and went "Uhh, I guess?" I can see through the airy nugs and there isn't a fleck of purple. The nose is correct for the strain, but this doesn't look anything like what I see on their Instagram. Something went wrong here, but at least the trim is passable.
Knowing that it's at least indica-dominant, I loaded a one-hitter and turned on Netflix where I'm binging "BoJack Horseman" after writing it off since season one. Little did I know, but the second episode in the night's queue was done in large parts without any dialogue at all. I was paralyzed in an almost anxious awe, feeling like I was being enveloped in the experience as one does when they first start smoking. My body, particularly my legs, felt a deep stone and my mouth was bone dry as I watched Bojack's underwater antics.
The next episode kicked on and I paused for water, feeling particularly drowsy as I attempted to get my legs under me. I had a slight headache at the base of my neck that I only noticed as I moved, so I decided to retire to my bedroom with laptop in tow. No more than ten minutes into the next ep and I was fast asleep, where I remained unconscious until the next morning, feeling slightly lethargic. Consider this one to revisit if they can solve the mystery of what I actually received.
---
---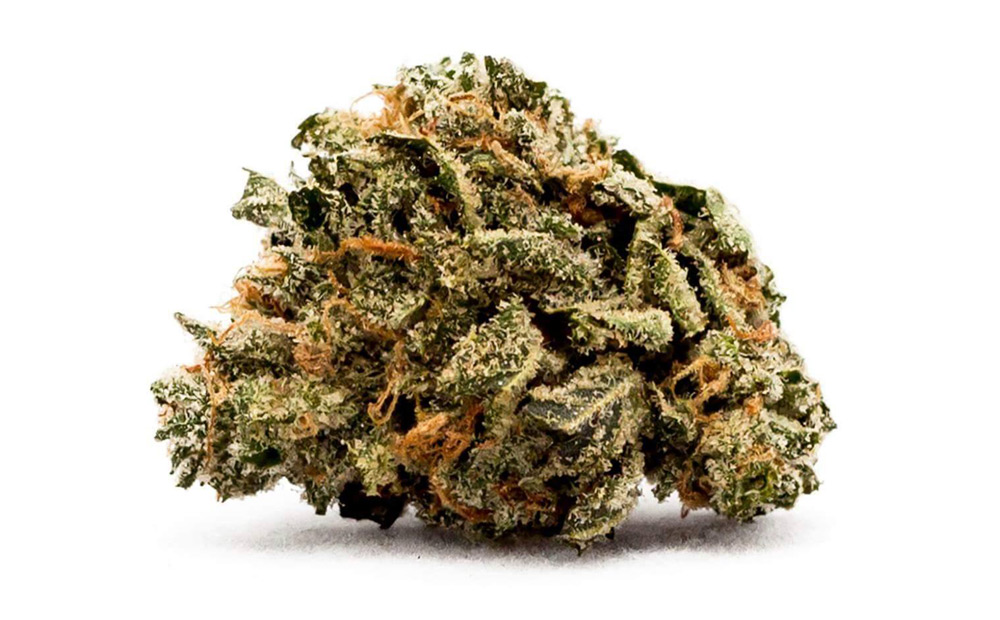 Lemon Skunk (hybrid)
Grown by: Bloom County
Another strain from Bloom, another stumper. Lemon Skunk gets overhyped as a citrus powerhouse, usually drawing equally from its skunk powers, but this jar reeks of the expired dairy that I'd expect from U.K. Cheese or Space Queen. After an extra day in the jar it starts taking on more tanginess, like an expired lemon Noosa yogurt, but the fromage still lingers. Structure wise and with long, orange hairs, it looks right (if not slightly too dark) but finding a fairly large immature seed in the largest nug isn't ideal. On the plus side, it's easily the best cure of the five: sticky, bouncing back, and without too much moisture.
Smoking again before bed as I was betting this Lemon Skunk leaned indica, I was rewarded with a heavy feeling almost immediately around my eyes, like putting on a pair of invisible goggles that were adjusted for a person with a smaller head. I was busy jotting down notes for a writing project but found myself getting stuck on bullet points or writing full sentences where paraphrasing would do. Focusing on tasks became a task in and of itself, leaving me frustrated and tired.
Getting into bed, I began adding various stretches to my regular routine, none of them particularly effective. It's like my muscles wanted to board the bus to Relax City but I was the obstinate bus driver that can't get them to their destination. I rambled to my fiancee something I thought sounded inspirational but is, in fact, just stoned rambling and then fell asleep to more Netflix. This is not energy you would normally expect from Lemon Skunk.
---
Dream Berry Haze (hybrid)
Grown by: Bloom County
Go ahead and meme me, bruh: I like this Blue Dream. Actually, I'm not sure if there's any Blue Dream in here as this is predominantly haze forward, but liking anything with the word "Dream" in it nowadays is akin to eating at Toby Keith's I Love This Bar & Grill: You will be judged. Featuring citrus, spice, and everything nice, there are even nose tickling S.A.G.E.-like notes behind the black pepper. Boasting prototypical structure, the pale emerald buds have the washed-out peach hairs you're looking for, albeit with impressive density. Even if the nugs had a tendency to crumble on contact, this was the most pleasantly flavorful of the lot. Unless you like huffing gas.
Again packing my one-y, the strain almost immediately struck me as one of the most creative Willie's Reserve offerings. My brain started going a mile a minute on a Sunday afternoon, suddenly starting graphics work that didn't need any attention until Monday. As a devout believer in the separation between weekends and weekdays, this is notable. If the Lemon Skunk was bleary, this was home grown Adderall in 1080p high definition.
If I had one knock on the Dream Berry Haze, it would be the relatively short duration, as I found its spell wearing off in under an hour. Fortunately, the high was clear and unencumbered enough that I gladly fired off another bowl without worrying about anxiety or crashing like a train into another that was just a few minutes behind schedule. Picking up where I left off, I started firing off e-mails until I grew tired of being on a laptop and started to pick up around the house. Even then, it wasn't a dissatisfaction with what I was doing, as there's serious mood elevation here. Just in time to get on the road again.