An idyllic homestead dinner, which began as "the longtime dream" of Ashley Rheingold, managing member of Headquarters Cannabis Co., became a romantic sunset reality when she hosted the recent Headquarters Harvest Dinner, a four-course, farm-to-table dinner with cannabis pairings at Shupe Homestead in Longmont, northwest of Denver.  Each food course was paired with both a cannabis strain and wine or cocktail to create a heightened epicurean experience outside on a beautiful warm rural evening.
After being greeted by trays of iced black tea with sprigs of fresh mint and a board of goat cheese and pistachio truffles, the pairings began with Lambsbreath, an energizing sativa strain originating from Jamaica and a cocktail named the Wiseman — a combination of  Colorado-made CapRock gin, fresh organic sage, grapefruit and lemon.  
Cups of fresh and flavorful tomato gazpacho and melon salsa paired with the second cocktail, Rose's Thorn, made with CapRock vodka, fresh organic cucumber, ginger and lemon. The sun was setting and the guests were called to the table.
Rheingold welcomed the seated dinner guests, which included many ties to the marijuana industry: Joe Cantalini of Organalabs; Shawn Coleman of 36 Solutions; Julie Berliner and Lauren Finesilver of Sweet Grass Kitchen; Brendan McCormick of The Clinic;  Morgan and Andrew Iwerson of Canyon Cultivation; attorney Rachel Gillette; attorney Shawn Hauser from Vicente-Sederberg; The Cannabist's editor, Ricardo Baca, and his wife, Melana Baca; Brittany Driver of Your Driving Force; Philip Wolf of Cultivating Spirits; and Jane West, Julie Batkiewicz and Lauren Gibbs of Women Grow.
---
The new culture
---
Dinner organizers Kendal Norris and Sunni Herbruck of Mason Jar Event Group and Rheingold thanked the participating companies that created the charming, rustic dinner. 
Bravo "Top Chef" champion Hosea Rosenberg of Blackbelly Market; Crystal Sagan, owner of 3 Chicks Bartending and Scott Merrill of Headquarters Cannabis Co. whet the guests' appetites for the imminent meal by describing the locally grown, harvested and prepared vegetables, meats, cheeses, spirits and cannabis to create the textural, flavorful and colorful experience.
The highlight of the décor, designed by Kelly Miller of Urban Annie's, was the sprawling outdoor table setting for 50, with a nice touch in the miniature clothespins affixed to the cloth napkins that could also function as a convenient roach clip.  Bec Koop of Buds and Blossoms created autumnal-inspired floral arrangement with orange lilies, maroon mums and cannabis leaves and flowers in mason jars. The musical notes from bluegrass band Lonely Days set the tone for the evening. Merrill and Headquarters Cannabis Co. colleagues Grace Hicks, Jessica Hicks, Kristin Hurlbut and Zack Peele circled the long table and supplied packed pipes for the flavor pairing, carefully remembering to clean the bowl between guests.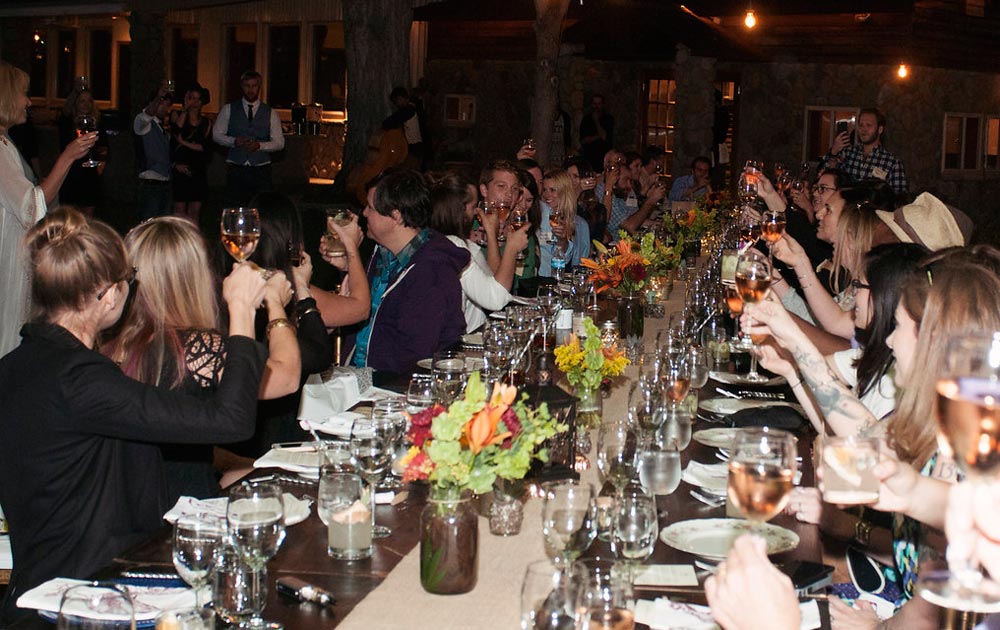 Rosenberg told the guests it was a great honor and great fun to create the meal.  During the menu planning, he joked, the decisions matching the flavors and aromas were often forgotten by the next morning.
The salad-course pairings were an uplifting Lambsbreath sativa and a glass of rosé served with a toss of mustard greens, root vegetables, Haystack Mountain chevre and sunflower seeds.  The main course, served family style, was Boulder County flatiron steak with potatoes and squash, and charred corn with an herb sauce. The cannabis pairing, The White, an indica-dominant hybrid or Matanushka Tundra, an indica with a creeping body buzz accentuated the meal and complemented the glass of cabernet sauvignon.
While Rosenberg worked alongside his catering staff to assemble the sweet finale of the meal, he joked some more.  He smiled and said that although the pairings were carefully planned, "the dessert goes with any weed."
Marley coffee spiked with orange liqueur and the cannabis strain Harlequin, known for its high CBD content, accompanied the dessert inspired by the end of the summer nights, a deconstructed s'more.   Peaches, berries and a graham cracker cookie rested on a layer of espresso ganache and a layer of salted caramel, which covered an oversized pillow of roasted marshmallow. After the dinner was over, Norris relaxed in her dining chair and shared her thoughts on the decadent finish: "After the last food pairing, I literally devoured the dessert."
---
---
---
---